Capitol 9: Rea Alisia
"Bon, esta esele!" Alisia dise. "Me ia previde nunca ce me va deveni tan rapida un Rea—e ta ce me informa tu, Altia," el continua en un tono sever (sempre, el gusta alga reproxa se), "lo no va conveni ce tu reclina tal sur la erba! Reas debe es diniosa, tu sabe!"
"Well, this is grand!" said Alice. "I never expected I should be a Queen so soon—and I'll tell you what it is, your majesty," she went on in a severe tone (she was always rather fond of scolding herself), "it'll never do for you to be lolling about on the grass like that! Queens have to be dignified, you know!"
Donce el sta e pasea de asi a ala—alga rijida per comensa, car el teme ce la corona va cade de sua testa: ma el comforta se con la pensa ce no otra person es presente per vide el, "e si me es vera un Rea," el dise en cuando el senta denova se, "pos un tempo, me va pote maneja intera bon la cosa."
So she got up and walked about—rather stiffly just at first, as she was afraid that the crown might come off: but she comforted herself with the thought that there was nobody to see her, "and if I really am a Queen," she said as she sat down again, "I shall be able to manage it quite well in time."
Tota aveni tan strana ce el no senti an pico surprendeda par trova ce la Rea Roja e la Rea Blanca senta prosima a el, tal ce un es a cada lado: vera, el ta gusta multe demanda de los como los ia ariva ala, ma el teme ce acel no ta es intera cortes. An tal, no risca esiste, el pensa, en demanda esce la jua ia fini. "Per favore, esce tu ta dise a me—" el comensa, regardante timida la Rea Roja.
Everything was happening so oddly that she didn't feel a bit surprised at finding the Red Queen and the White Queen sitting close to her, one on each side: she would have liked very much to ask them how they came there, but she feared it would not be quite civil. However, there would be no harm, she thought, in asking if the game was over. "Please, would you tell me—" she began, looking timidly at the Red Queen.
"Parla sola si on parla a tu!" la Rea interompe criticante el.
"Speak when you're spoken to!" the Queen sharply interrupted her.
"Ma si cadun ta obedi acel regula," Alisia dise, sempre preparada per un disputa peti, "e si on ta parla sola si un otra person parla a on, e la otra ta espeta sempre ce on ta comensa, tu vide, nun ta parla a cualce ves, tal ce—"
"But if everybody obeyed that rule," said Alice, who was always ready for a little argument, "and if you only spoke when you were spoken to, and the other person always waited for you to begin, you see nobody would ever say anything, so that—"
"Riable!" la Rea esclama. "Ma, esce tu no comprende, enfante—" asi el sesa, fronsinte sua suprasiles, e, pos pensa tra un minuto, cambia subita la tema de la conversa. "Cual tu intende par dise 'Si tu es vera un Rea'? Perce tu ave la direto de nomi tal tu? Tu no pote es un Rea, tu sabe, asta cuando tu ia susede en la esamina pertinente. E lo va es plu bon si nos comensa pronto lo.
"Ridiculous!" cried the Queen. "Why, don't you see, child—" here she broke off with a frown, and, after thinking for a minute, suddenly changed the subject of the conversation. "What do you mean by 'If you really are a Queen'? What right have you to call yourself so? You can't be a Queen, you know, till you've passed the proper examination. And the sooner we begin it, the better."
"Me ia dise sola 'si'!" la povre Alisia prea en un tono misera.
"I only said 'if'!" poor Alice pleaded in a piteous tone.
La du Reas regarda lunlotra, e la Rea Roja comenta, con un trema peti, "El dise ce el ia dise sola 'si'—"
The two Queens looked at each other, and the Red Queen remarked, with a little shudder, "She says she only said 'if'—"
"Ma el ia dise vera multe plu ca acel!" la Rea Blanca jemi, torsente sua manos. "O! tan vera multe plu ca acel!"
"But she said a great deal more than that!" the White Queen moaned, wringing her hands. "Oh, ever so much more than that!"
"Tu ia fa lo, tu sabe," la Rea Roja dise a Alisia. "Parla sempre vera—pensa ante parla—e scrive la dise a pos."
"So you did, you know," the Red Queen said to Alice. "Always speak the truth—think before you speak—and write it down afterwards."
"Ma serta, me no ia intende—" Alisia comensa, ma la Rea Roja interompe nonpasiente el.
"I'm sure I didn't mean—" Alice was beginning, but the Red Queen interrupted her impatiently.
"Acel es esata lo sur cual me cexa! Tu ia ta debe intende! Cual es la valua, tu suposa, de un enfante sin intende? An un broma debe ave alga intende—e un enfante importa plu ca un broma, me espera. Tu no ta es capas de nega acel, an si tu ta atenta lo con ambos manos."
"That's just what I complain of! You should have meant! What do you suppose is the use of a child without any meaning? Even a joke should have some meaning—and a child's more important than a joke, I hope. You couldn't deny that, even if you tried with both hands."
"Me no nega con mea manos," Alisia oposa.
"I don't deny things with my hands," Alice objected.
"Nun ia dise acel," la Rea Roja dise. "Me ia dise ce tu no ta es capas si tu ta atenta."
"Nobody said you did," said the Red Queen. "I said you couldn't if you tried."
"El ave acel umor," la Rea Blanca dise, "en cual el vole nega alga cosa—ma el no sabe cual cosa el ta nega!"
"She's in that state of mind," said the White Queen, "that she wants to deny something—only she doesn't know what to deny!"
"Un tempera mal e repulsante," la Rea Roja comenta; e alora on ave un silentia noncomfortosa tra un o du minutos.
"A nasty, vicious temper," the Red Queen remarked; and then there was an uncomfortable silence for a minute or two.
La Rea Roja rompe la silentia par dise a la Rea Blanca, "Me invita tu a la banceta de Alisia a esta posmedia."
The Red Queen broke the silence by saying to the White Queen, "I invite you to Alice's dinner-party this afternoon."
La Rea Blanca surie debil, e dise "E me invita tu."
The White Queen smiled feebly, and said "And I invite you."
"Me no ia sabe an ce me va ave un banceta," Alisia dise; "ma si un tal va aveni, me crede ce me debe eleje la invitadas."
"I didn't know I was to have a party at all," said Alice; "but if there is to be one, I think I ought to invite the guests."
"Nos ia ofre a tu la posible de fa lo," la Rea Roja comenta: "ma probable tu ia reseta ancora no multe lesones sur bon maneras?"
"We gave you the opportunity of doing it," the Red Queen remarked: "but I daresay you've not had many lessons in manners yet?"
"On no ensenia bon maneras en lesones," Alisia dise. "Lesones instrui on a fa somas, e tal cosas."
"Manners are not taught in lessons," said Alice. "Lessons teach you to do sums, and things of that sort."
"Tu es capas de Ajunta?" la Rea Blanca demanda. "Cuanto es un e un e un e un e un e un e un e un e un e un?"
"Can you do Addition?" the White Queen asked. "What's one and one and one and one and one and one and one and one and one and one?"
"Me no sabe," Alisia dise. "Me ia deveni perdeda."
"I don't know," said Alice. "I lost count."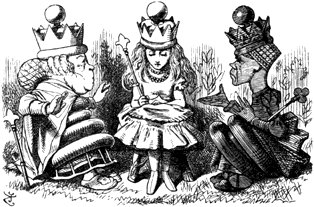 "El no es capas de Ajunta," la Rea Roja interompe. "Tu es capas de Sutrae? Prende nove de oto."
"She can't do Addition," the Red Queen interrupted. "Can you do Subtraction? Take nine from eight."
"Nove de oto—me no pote, tu sabe," Alisia responde multe pronto: "ma—"
"Nine from eight I can't, you know," Alice replied very readily: "but—"
"El no es capas de Sutrae," la Rea Blanca dise. "Tu es capas de Divide? Divide un pan par cotel—cual es la resulta de acel?"
"She can't do Subtraction," said the White Queen. "Can you do Division? Divide a loaf by a knife—what's the answer to that?"
"Me suposa—" Alisia comensa, ma la Rea Roja responde per el. "Pan burida, natural. Proba un otra calcula de Sutrae. Prende un oso de un can: cual cosa resta?"
"I suppose—" Alice was beginning, but the Red Queen answered for her. "Bread-and-butter, of course. Try another Subtraction sum. Take a bone from a dog: what remains?"
Alisia considera. "La oso no ta resta, natural, si me ta prende lo—e la can no ta resta; lo ta veni per morde me—e me es serta ce me no ta resta!"
Alice considered. "The bone wouldn't remain, of course, if I took it—and the dog wouldn't remain; it would come to bite me—and I'm sure I shouldn't remain!"
"Donce tu crede ce no cosa ta resta?" la Rea Roja dise.
"Then you think nothing would remain?" said the Red Queen.
"Me crede ce acel es la bon responde."
"I think that's the answer."
"Tu era, como usual," la Rea Roja dise: "la bon umor de la can ta resta."
"Wrong, as usual," said the Red Queen: "the dog's temper would remain."
"Ma me no comprende como—"
"Ma, vide!" la Rea Roja esclama. "La can ta perde sua bon umor, no?"
"Why, look here!" the Red Queen cried. "The dog would lose its temper, wouldn't it?"
"Cisa tal," Alisia responde cauta.
"Perhaps it would," Alice replied cautiously.
"Donce si la can ta parti, sua bon umor ta resta!" la Rea esclama vinsente.
"Then if the dog went away, its temper would remain!" the Queen exclaimed triumphantly.
Alisia dise, tan seria como posible, "Cisa los ta parti en dirijes diferente." Ma el no pote asteni de pensa a se, "Nos parla en asurdas tan stonante!"
Alice said, as gravely as she could, "They might go different ways." But she couldn't help thinking to herself, "What dreadful nonsense we are talking!"
"El no es an pico capas de calcula!" la Reas dise juntada, con asentua grande.
"She can't do sums a bit!" the Queens said together, with great emphasis.
"Esce tu es capas de calcula?" Alisia dise, subita turnante contra la Rea Blanca, car el no gusta reseta tan multe criticas.
"Can you do sums?" Alice said, turning suddenly on the White Queen, for she didn't like being found fault with so much.
La Rea enspira forte e clui sua oios. "Me es capas de Ajunta, si tu dona a me un tempo sufisinte—ma me es vera nunca capas de Sutrae!"
The Queen gasped and shut her eyes. "I can do Addition, if you give me time—but I can't do Subtraction, under any circumstances!"
"Natural, tu sabe la alfabeta?" la Rea Roja dise.
"Of course you know your A B C?" said the Red Queen.
"Ma serta," Alisia dise.
"To be sure I do," said Alice.
"Me ance," la Rea Blanca xuxa: "nos va dise juntada lo, cara, a multe veses. E me va revela a tu un secreta—me pote leje parolas de un letera! Eselente, no? An tal, no deveni descorajida. Tu va es ance capas pos un tempo."
"So do I," the White Queen whispered: "we'll often say it over together, dear. And I'll tell you a secret—I can read words of one letter! Isn't that grand! However, don't be discouraged. You'll come to it in time."
Asi la Rea Roja comensa denova. "Esce tu pote responde a demandas usosa?" el dise. "Como on fa la pan?"
Here the Red Queen began again. "Can you answer useful questions?" she said. "How is bread made?"
"Me sabe esta!" Alisia esclama zelosa. "On prende la farina—"
"I know that!" Alice cried eagerly. "You take some flour—"
"Do on casi la marina?" la Rea Blanca demanda. "En un barcon, o a un porto?"
"Where do you pick the flower?" the White Queen asked. "In a garden, or in the hedges?"
"Ma vera, on tota no casi lo," Alisia esplica: "on polvi lo—"
"Well, it isn't picked at all," Alice explained: "it's ground—"
"Esce on despolvi lo per limpia?" la Rea Blanca dise. "Tu debe no omete tan multe cosas."
"How many acres of ground?" said the White Queen. "You mustn't leave out so many things."
"Venti sua testa!" la Rea Roja interompe ansiosa. "El va es febrosa pos pensa tan multe." Donce los comensa sua taxe e venti el con colies de folias, asta cuando el debe prea ce los sesa, car la ata desordina tan sua capeles.
"Fan her head!" the Red Queen anxiously interrupted. "She'll be feverish after so much thinking." So they set to work and fanned her with bunches of leaves, till she had to beg them to leave off, it blew her hair about so.
"Tota vade denova bon per el aora," la Rea Roja dise. "Esce tu es capas de Linguas? Como on dise baba-ba-bi en franses?"
"She's all right again now," said the Red Queen. "Do you know Languages? What's the French for fiddle-de-dee?"
"Baba-ba-bi no es un parola," Alisia responde seria.
"Fiddle-de-dee's not English," Alice replied gravely.
"Ma ci ia dise ce lo es?" la Rea Roja dise.
"Who ever said it was?" said the Red Queen.
Alisia crede ce el vide un modo de sorti de la difisil a esta ves. "Si tu va dise a me en cual lingua 'baba-ba-bi' es un parola, me va dise a tu como on dise lo en franses!" el esclama vinsente.
Alice thought she saw a way out of the difficulty this time. "If you'll tell me what language 'fiddle-de-dee' is, I'll tell you the French for it!" she exclaimed triumphantly.
Ma la Rea Roja alti alga rijida se, e dise "Reas negosia nunca."
But the Red Queen drew herself up rather stiffly, and said "Queens never make bargains."
"Me desira ce Reas fa nunca demandas," Alisia pensa a se.
"I wish Queens never asked questions," Alice thought to herself.
"Ta ce nos no disputa," la Rea Blanca dise en un tono ansiosa. "Cual es la causa de lampo?"
"Don't let us quarrel," the White Queen said in an anxious tone. "What is the cause of lightning?"
"La causa de lampo," Alisia dise nonvasilante, car el senti intera serta sur esta, "es la tona—no, no!" el coreti rapida se. "Me ia intende dise la reversa."
"The cause of lightning," Alice said very decidedly, for she felt quite certain about this, "is the thunder—no, no!" she hastily corrected herself. "I meant the other way."
"Tu es tro tarda per coreti," la Rea Roja dise: "pos cuando on ia dise ja un cosa, acel fisa lo, e on debe aseta la resultas."
"It's too late to correct it," said the Red Queen: "when you've once said a thing, that fixes it, and you must take the consequences."
"Esta fa ce me recorda—" la Rea Blanca dise, basinte sua regarda, e nervosa juntante e dejuntante sua manos, "nos ia ave un tempesta tan forte de tona a la martedi pasada—me refere a un de la grupo pasada de martedis, tu sabe."
"Which reminds me—" the White Queen said, looking down and nervously clasping and unclasping her hands, "we had such a thunderstorm last Tuesday—I mean one of the last set of Tuesdays, you know."
Alisia es confondeda. "En nosa pais," el comenta, "nos ave no plu ca un dia a la mesma tempo."
Alice was puzzled. "In our country," she remarked, "there's only one day at a time."
La Rea Roja dise, "Acel es un povre modo magra de condui. Ma asi, nos ave jeneral du o tre dias e notes a la mesma tempo, e a veses en la inverno nos prende no min ca sinco notes en junta—per la caldia, tu sabe."
The Red Queen said, "That's a poor thin way of doing things. Now here, we mostly have days and nights two or three at a time, and sometimes in the winter we take as many as five nights together—for warmth, you know."
"Donce sinco notes es plu calda ca un?" Alisia osa demanda.
"Are five nights warmer than one night, then?" Alice ventured to ask.
"Sincuple plu calda, natural."
"Five times as warm, of course."
"Ma los debe es sincuple plu fria, par la mesma regula—"
"But they should be five times as cold, by the same rule—"
"Esata tal!" la Rea Roja esclama. "Sincuple plu calda, e sincuple plu fria—esata como me es sincuple plu rica como tu, e sincuple plu intelijente!"
"Just so!" cried the Red Queen. "Five times as warm, and five times as cold—just as I'm five times as rich as you are, and five times as clever!"
Alisia suspira e sede la tema. "Esta es esata como un rompetesta sin solve!" el pensa.
Alice sighed and gave it up. "It's exactly like a riddle with no answer!" she thought.
"Ance Ovaluna ia vide lo," la Rea Blanca continua en un vose basa, plu como si el parla a se. "El ia veni a la porte con un tiratapo en sua mano—"
"Humpty Dumpty saw it too," the White Queen went on in a low voice, more as if she were talking to herself. "He came to the door with a corkscrew in his hand—"
"Cual el ia desira?" la Rea Roja dise.
"What did he want?" said the Red Queen.
"El ia dise ce el debe entra," la Rea Blanca continua, "car el xerca un ipopotamo. An tal, acaso, nos no ia ave un tal cosa en la casa a acel matina."
"He said he would come in," the White Queen went on, "because he was looking for a hippopotamus. Now, as it happened, there wasn't such a thing in the house, that morning."
"Esce vos ave usual?" Alisia demanda en un tono stonada.
"Is there generally?" Alice asked in an astonished tone.
"Ma sola a jovedis," la Rea dise.
"Well, only on Thursdays," said the Queen.
"Me sabe lo cual el ia intende," Alisia dise: "el ia vole puni la pexes, car—"
"I know what he came for," said Alice: "he wanted to punish the fish, because—"
Asi, la Rea Blanca comensa denova. "La tempesta ia es tan forte, on no pote imajina!" ("El ia pote nunca, tu sabe," la Rea Roja dise.) "E un parte de la teto ia desfisa se, e un monton de tona ia entra—e lo ia vade rolante tra la sala en masas grande—e cadente la tables e otra cosas—asta cuando me ia es tan asustada ce me no ia pote recorda mea propre nom!"
Here the White Queen began again. "It was such a thunderstorm, you can't think!" ("She never could, you know," said the Red Queen.) "And part of the roof came off, and ever so much thunder got in—and it went rolling round the room in great lumps—and knocking over the tables and things—till I was so frightened, I couldn't remember my own name!"
Alisia pensa a se, "Me ta atenta nunca recorda mea nom a media de un asidente! Cual ta es la valua de acel?" ma el no dise esta a vose, per evita la risca de ofende la Rea povre.
Alice thought to herself, "I never should try to remember my name in the middle of an accident! Where would be the use of it?" but she did not say this aloud, for fear of hurting the poor Queen's feeling.
"Altia, tu debe pardona el," la Rea Roja dise a Alisia, prendente un de la manos de la Rea Blanca en sua propres, e dulse caresante lo: "el intende bon, ma el no pote asteni de dise cosas fol, en la plu de casos."
"Your Majesty must excuse her," the Red Queen said to Alice, taking one of the White Queen's hands in her own, and gently stroking it: "she means well, but she can't help saying foolish things, as a general rule."
La Rea Blanca regarda timida Alisia, ci senti ce el debe dise un cosa compatiosa, ma vera no pote trova un tal a esta momento.
The White Queen looked timidly at Alice, who felt she ought to say something kind, but really couldn't think of anything at the moment.
"On ia eleva nunca vera bon el," la Rea Roja continua: "ma lo es stonante ce el es tan bon temperada! Fa un toca consolante a sua testa, e vide como plaseda el deveni!" Ma esta es ultra la coraje de Alisia.
"She never was really well brought up," the Red Queen went on: "but it's amazing how good-tempered she is! Pat her on the head, and see how pleased she'll be!" But this was more than Alice had courage to do.
"Un pico de compatia—e un crespi de sua capeles—ta afeta merveliosa el—"
"A little kindness—and putting her hair in papers—would do wonders with her—"
La Rea Blanca suspira profonda, e reposa sua testa sur la spala de Alisia. "Me es tan dormosa!" el jemi.
The White Queen gave a deep sigh, and laid her head on Alice's shoulder. "I am so sleepy!" she moaned.
"El es fatigada, la povre!" la Rea Roja dise. "Lisi sua capeles–presta a el tua xapo de note—e fa un canta calminte de cuna per el."
"She's tired, poor thing!" said the Red Queen. "Smooth her hair—lend her your nightcap—and sing her a soothing lullaby."
"Me no ave un xapo de note asi," Alisia dise, en atenta obedi la comanda prima: "e me conose no cantas calminte de cuna."
"I haven't got a nightcap with me," said Alice, as she tried to obey the first direction: "and I don't know any soothing lullabies."
"Donce me mesma debe fa lo," la Rea Roja dise, e el comensa:
"I must do it myself, then," said the Red Queen, and she began:
Dama, repos' en bela dormet'!
Nos ave tempo ante bancet':
Pos la banceta, vade a bal'—
Roja e Blanc' e Alisia reial!
"Hush-a-by lady, in Alice's lap!
Till the feast's ready, we've time for a nap:
When the feast's over, we'll go to the ball—
Red Queen, and White Queen, and Alice, and all!
"E car tu conose aora la parolas," el ajunta, reposante sua testa sur la otra spala de Alisia, "ta ce tu recanta lo a me. Me deveni ance dormosa." Pos un plu momento, ambos Reas dormi profonda, con roncas forte.
"And now you know the words," she added, as she put her head down on Alice's other shoulder, "just sing it through to me. I'm getting sleepy, too." In another moment both Queens were fast asleep, and snoring loud.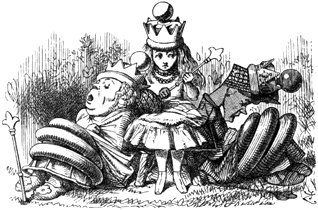 "Cual me debe fa?" Alisia esclama, regardante sirca se en confonde grande, cuando prima un testa ronda, e alora la otra, desende rolante de sua spala, e reclina como un masa pesosa sur sua vasto. "Me crede ce lo ia aveni nunca a ante ce algun ia debe atende du Reas dorminte a la mesma tempo! No, no en tota la Istoria de England—lo no ia pote aveni, tu sabe, car on ia ave nunca plu ca un Rea a un ves. Ta ce vos velia, pesosas!" el continua en un tono nonpasiente; ma el reseta no responde plu ca un ronca calma.
"What am I to do?" exclaimed Alice, looking about in great perplexity, as first one round head, and then the other, rolled down from her shoulder, and lay like a heavy lump in her lap. "I don't think it ever happened before, that any one had to take care of two Queens asleep at once! No, not in all the History of England—it couldn't, you know, because there never was more than one Queen at a time. Do wake up, you heavy things!" she went on in an impatient tone; but there was no answer but a gentle snoring.
La ronca deveni plu clar a cada minuto, e sona plu simil a un melodia: final el pote an deteta la parolas, e el escuta tan zelosa ce, cuando la du testas grande desapare de sua vasto, el persepi apena esta.
The snoring got more distinct every minute, and sounded more like a tune: at last she could even make out the words, and she listened so eagerly that, when the two great heads vanished from her lap, she hardly missed them.
El sta ante un porte arcida supra cual la parolas "REA ALISIA" es scriveda en leteras grande, e cada lado de la arco ave un campaneta; la un ave la eticeta "Campana de visitores", e la otra "Campana de servores".
She was standing before an arched doorway over which were the words "QUEEN ALICE" in large letters, and on each side of the arch there was a bell-handle; one was marked "Visitors' Bell," and the other "Servants' Bell."
"Me va espeta asta la fini de la canta," Alisia pensa, "e alora me va sona—la—cual campaneta me debe sona?" el continua, multe confondeda par la nomes. "Me no es un visitor, e me no es un servor. On ta debe ave un con la eticeta 'Rea', tu sabe—"
"I'll wait till the song's over," thought Alice, "and then I'll ring—the—which bell must I ring?" she went on, very much puzzled by the names. "I'm not a visitor, and I'm not a servant. There ought to be one marked 'Queen,' you know—"
A esta momento, la porte abri pico, e un creada con beco longa protende sua testa per un momento e dise "On no pote entra asta la semana pos la seguente!" e clui denova la porte con un pum.
Just then the door opened a little way, and a creature with a long beak put its head out for a moment and said "No admittance till the week after next!" and shut the door again with a bang.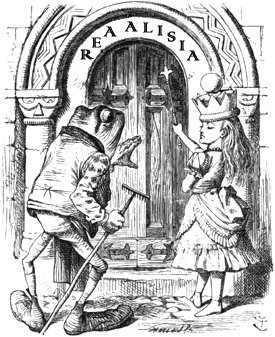 Futil, Alisia bateta e sona la campaneta tra un tempo longa, ma final, un Rana multe vea, ci senta su un arbor, leva se e coxea lenta en dirije a el: el es vestida en jala briliante, e porta botas enorme.
Alice knocked and rang in vain for a long time, but at last, a very old Frog, who was sitting under a tree, got up and hobbled slowly towards her: he was dressed in bright yellow, and had enormous boots on.
"Aora, cual 's la problem?" la Rana dise en un xuxa profonda roncin.
"What is it, now?" the Frog said in a deep hoarse whisper.
Alisia turna se, preparada per critica cualcun. "Do es la servor con taxe de responde a la porte?"'
Alice turned round, ready to find fault with anybody. "Where's the servant whose business it is to answer the door?" she began angrily.
"Cual porte?" la Rana dise.
"Which door?" said the Frog.
Alisia piafa cuasi en sua irita a la manera lenta longida con cual en parla. "Esta porte, natural!"
Alice almost stamped with irritation at the slow drawl in which he spoke. "This door, of course!"
La Rana regarda la porte con sua oios grande e oscur tra un minuto: alora el prosimi plu e frota lo con sua diton, como si el proba esce la pinta va desfisa se; alora el regarda Alisia.
The Frog looked at the door with his large dull eyes for a minute: then he went nearer and rubbed it with his thumb, as if he were trying whether the paint would come off; then he looked at Alice.
"Responde a l' porte?" el dise. "Sur cual lo ia demanda?" Sua vose es tan roncin ce Alisia oia apena el.
"To answer the door?" he said. "What's it been asking of?" He was so hoarse that Alice could scarcely hear him.
"Me no comprende tu," el dise.
"I don't know what you mean," she said.
"Me parla com' tu, no?" la Rana continua. "O esce tu 's sorda? Cual lo ia demanda a tu?"
"I talks English, doesn't I?" the Frog went on. "Or are you deaf? What did it ask you?"
"No cosa!" Alisia dise nonpasiente. "Me ia bateta lo!"
"Nothing!" Alice said impatiently. "I've been knocking at it!"
"Debe no fa 'cel—debe no fa 'cel—" la Rana murmura. "Irita lo, tu sabe." Alora el prosimi e fa un colpa a la porte con un de sua pedes grande. "Tu no irita lo," el respira ruidosa, recoxeante a sua arbor, "e lo no va irita tu, tu sabe."
"Shouldn't do that—shouldn't do that—" the Frog muttered. "Vexes it, you know." Then he went up and gave the door a kick with one of his great feet. "You let it alone," he panted out, as he hobbled back to his tree, "and it'll let you alone, you know."
A esta momento, la porte es xutin abrida, e un vose agu es oiable en canta:
At this moment the door was flung open, and a shrill voice was heard singing:—
"A la mund' mirorida, Alisia sujesta
Con setro en man', e corona sur testa:
'Veni, mund' mirorida! Veni, tota! Ta ce
Vos banceta con Roja, e Blanca, e me!'"
"To the Looking-Glass world it was Alice that said,
'I've a sceptre in hand, I've a crown on my head;
Let the Looking-Glass creatures, whatever they be,
Come and dine with the Red Queen, the White Queen, and me.'"
E sentos de voses partisipa en la refren:
And hundreds of voices joined in the chorus:—
"Donce pleni la vitros con freta masim',
E duxi la table con vestes e vim:
Con gatos en cafe, e muses en te—
Bonveni Alisia con tredes par tre!"
"Then fill up the glasses as quick as you can,
And sprinkle the table with buttons and bran:
Put cats in the coffee, and mice in the tea—
And welcome Queen Alice with thirty-times-three!"
Esta es segueda par un ruido confusada de aclama, e Alisia pensa a se, "Tredes par tre es novedes. Me vole sabe esce algun fa la conta?" Pos un minuto, silentia aveni denova, e la mesma vose agu canta un strofe nova:
Then followed a confused noise of cheering, and Alice thought to herself, "Thirty times three makes ninety. I wonder if any one's counting?" In a minute there was silence again, and the same shrill voice sang another verse:—
"'O! la mund' mirorida!' Alisia declara,
'La onora de vide me asi es rara:
Con multe plaser vos va bevi la te
E banceta con Roja, e Blanca, e me!'"
"'O Looking-Glass creatures,' quoth Alice, 'draw near!
'Tis an honour to see me, a favour to hear:
'Tis a privilege high to have dinner and tea
Along with the Red Queen, the White Queen, and me!''
Alora on canta denova la refren:
Then came the chorus again:—
"Donce pleni la vitros con inc' e melas',
E otra licuidas cual plase la nas:
Arena en sidra, e lan' en xeres—
Bonveni Alisia con sesdes par ses!"
"Then fill up the glasses with treacle and ink,
Or anything else that is pleasant to drink:
Mix sand with the cider, and wool with the wine—
And welcome Queen Alice with ninety-times-nine!"
"Sesdes par ses!" Alisia repete en despera, "O! on va fini nunca acel! Me ta debe entra sin pausa—" e on fa un silentia completa a la momento de sua apare.
"Ninety times nine!" Alice repeated in despair, "Oh, that'll never be done! I'd better go in at once—" and there was a dead silence the moment she appeared.
Alisia regardeta nervosa longo la table en cuando el pasea tra la salon grande, e vide ce sirca sincodes invitadas es presente, de tota spesies: alga es animales, alga es avias, e an un pico de flores es entre los. "Me es felis ce los ia veni sin espeta invitas," el ia pensa: "me ia ta sabe nunca cual persones conveni per invita!"
Alice glanced nervously along the table, as she walked up the large hall, and noticed that there were about fifty guests, of all kinds: some were animals, some birds, and there were even a few flowers among them. "I'm glad they've come without waiting to be asked," she thought: "I should never have known who were the right people to invite!"
Tre sejas sta a la culmina de la table; la Reas Roja e Blanca ia ocupa ja du de los, ma la media es vacua. Alisia senta se en lo, alga noncomfortosa en la silentia, e anelante ce algun va parla.
There were three chairs at the head of the table; the Red and White Queens had already taken two of them, but the middle one was empty. Alice sat down in it, rather uncomfortable in the silence, and longing for some one to speak.
Final la Rea Roja comensa. "Tu es tro tarda per la sopa e la pex," el dise. "Trae la rostada!" E la servores ia pone un gama de ovea ante Alisia, ci regarda alga ansiosa lo, car el ia debe nunca talia un carne rostada a ante.
At last the Red Queen began. "You've missed the soup and fish," she said. "Put on the joint!" And the waiters set a leg of mutton before Alice, who looked at it rather anxiously, as she had never had to carve a joint before.
"Tu pare alga timida; ta ce me presenta tu a acel gama de ovea," la Rea Roja dise. "Alisia—Ovea; Ovea—Alisia." La gama de ovea leva se en la plato e fa un inclina peti a Alisia; e Alisia inclina en responde, no sabente esce el debe es asustada o divertida.
"You look a little shy; let me introduce you to that leg of mutton," said the Red Queen. "Alice—Mutton; Mutton—Alice." The leg of mutton got up in the dish and made a little bow to Alice; and Alice returned the bow, not knowing whether to be frightened or amused.
"Me ta dona a vos un talia de lo?" el dise, prendente la cotel e force, e regardante de un Rea a la otra.
"May I give you a slice?" she said, taking up the knife and fork, and looking from one Queen to the other.
"Serta no," la Rea Roja dise, nonvasilante: "lo no es cortes si on talia algun a ci on ia presenta on. Sutrae la rostada!" E la servores porta lo a via, e trae un deser grande de pruna en loca.
"Certainly not," the Red Queen said, very decidedly: "it isn't etiquette to cut any one you've been introduced to. Remove the joint!" And the waiters carried it off, and brought a large plum-pudding in its place.
"No presenta me a la deser, per favore," Alisia dise alga rapida, "o nos va come tota no cosa. Me ta dona alga a vos?"
"I won't be introduced to the pudding, please," Alice said rather hastily, "or we shall get no dinner at all. May I give you some?"
Ma la Rea Roja aspeta malumorosa, e ronca "Deser—Alisia; Alisia—Deser. Sutrae la deser!" e la servores prende lo tan rapida ce Alisia no pote responde a la inclina cual lo fa.
But the Red Queen looked sulky, and growled "Pudding—Alice; Alice—Pudding. Remove the pudding!" and the waiters took it away so quickly that Alice couldn't return its bow.
An tal, el no comprende perce la Rea Roja ta es la sola capas de fa comandas, donce, per esperimenta, el esclama "Servor! Retrae la deser!" e lo reapare pos un momento como par truco de majia. Lo es tan grande ce el no pote evita senti alga timida ante lo, como el ia es ja ante la gama de ovea; an tal, el concista sua timidia par luta forte, e estrae un talia e dona lo a la Rea Roja.
However, she didn't see why the Red Queen should be the only one to give orders, so, as an experiment, she called out "Waiter! Bring back the pudding!" and there it was again in a moment like a conjuring-trick. It was so large that she couldn't help feeling a little shy with it, as she had been with the mutton; however, she conquered her shyness by a great effort and cut a slice and handed it to the Red Queen.
"Tan noncortes!" la Deser dise. "Me vole sabe como tu ta reata, si me ta estrae un talia de tu, bestia!"
"What impertinence!" said the Pudding. "I wonder how you'd like it, if I were to cut a slice out of you, you creature!"
Lo parla en un vose densa como gras de ren, e Alisia ave no parola per dise en responde: el pote sola senta e regarda lo e enspira.
It spoke in a thick, suety sort of voice, and Alice hadn't a word to say in reply: she could only sit and look at it and gasp.
"Fa un comenta," la Rea Roja dise: "lo es riable ce on lasa la conversa intera a la deser!"
"Make a remark," said the Red Queen: "it's ridiculous to leave all the conversation to the pudding!"
"Tu sabe, on ia resita oji tan multe poesias a me," Alisia comensa, pico asustada par trova ce, direta cuando el abri sua labios, on fa un silentia completa, e tota regardas es fisada a el; "e lo es un cosa multe strana, me opina—cada poesia ia pertine a pexes en alga modo. Esce tu sabe perce on gusta tan multe la pexes, en tota locas asi?"
"Do you know, I've had such a quantity of poetry repeated to me to-day," Alice began, a little frightened at finding that, the moment she opened her lips, there was dead silence, and all eyes were fixed upon her; "and it's a very curious thing, I think—every poem was about fishes in some way. Do you know why they're so fond of fishes, all about here?"
El parla a la Rea Roja, de ci sua responde perde alga la tema. "En relata a pexes," el dise, multe lenta e seria, prosiminte sua boca a la orea de Alisia, "la Altia Blanca conose un rompetesta bela—intera en poesia—intera sur pexes. Esce el ta resita lo?"
She spoke to the Red Queen, whose answer was a little wide of the mark. "As to fishes," she said, very slowly and solemnly, putting her mouth close to Alice's ear, "her White Majesty knows a lovely riddle—all in poetry—all about fishes. Shall she repeat it?"
"La Altia Roja es multe jentil en refere a lo," la Rea Blanca murmura en la otra orea de Alisia, en un vose simil a la u-u de un pijon. "Lo ta es un regala tan bon! Esce?"
"Her Red Majesty's very kind to mention it," the White Queen murmured into Alice's other ear, in a voice like the cooing of a pigeon. "It would be such a treat! May I?"
"Per favore," Alisia dise multe cortes.
"Please do," Alice said very politely.
La Rea Blanca rie con deleta, e caresa la jena de Alisia. Alora el comensa:
The White Queen laughed with delight, and stroked Alice's cheek. Then she began:
"'Prima, saisi la pex.'
Tan fasil: an un bebe, me pensa, dispone.
'On ta compra la pex.'
Tan fasil: un sentim ta sufisi per mone.
"'First, the fish must be caught.'
That is easy: a baby, I think, could have caught it.
'Next, the fish must be bought.'
That is easy: a penny, I think, would have bought it.
'On ta coce barat'!'
Tan fasil: on completi rapida la cosa.
'Lo ta senta sur plat'!'
Tan fasil: car lo es ja en un tal reposa.
'Now cook me the fish!'
That is easy, and will not take more than a minute.
'Let it lie in a dish!'
That is easy, because it already is in it.
'Me ta come present'!'
Tan fasil es la trae de lo a la table.
'Elimin' la covrent'!'
A! me av' un problem – lo es tan nonlevable!
'Bring it here! Let me sup!'
It is easy to set such a dish on the table.
'Take the dish-cover up!'
Ah, that is so hard that I fear I'm unable!
Con ader' nondebil
Lo reposa tenint' sua tet' de asconde:
Cual es la plu fasil
De descovre? La pex, o la nom en responde?
For it holds it like glue—
Holds the lid to the dish, while it lies in the middle:
Which is easiest to do,
Un-dish-cover the fish, or dishcover the riddle?"
"Pensa sur lo per un minuto, e alora divina," la Rea Roja dise. "Entretempo, nos va brinda tua bon sania—la bon sania de Rea Alisia!" el xilia tan forte como posible, e tota la invitadas comensa direta brinda lo, e los fa esta en un modo multe strana: alga de los pone sua vitros sur sua testas como estinguadores de candelas, e bevi tota cual desende sua fases en fluetas—otras malversa la carafas, e bevi la vino en cuando lo flue de sur la bordas de la table—e tre de los (ci aspeta como cangarus) trepa a en la plato de ovea rostada, e comensa zelosa leca la salsa, "esata como porcos en un trogo!" Alisia pensa.
"Take a minute to think about it, and then guess," said the Red Queen. "Meanwhile, we'll drink your health—Queen Alice's health!" she screamed at the top of her voice, and all the guests began drinking it directly, and very queerly they managed it: some of them put their glasses upon their heads like extinguishers, and drank all that trickled down their faces—others upset the decanters, and drank the wine as it ran off the edges of the table—and three of them (who looked like kangaroos) scrambled into the dish of roast mutton, and began eagerly lapping up the gravy, "just like pigs in a trough!" thought Alice.
"Tu debe ofre tua grasias en un parla cortes," la Rea Roja dise, fronsinte sua suprasiles a Alisia en cuando el parla.
"You ought to return thanks in a neat speech," the Red Queen said, frowning at Alice as she spoke.
"Nos debe suporta tu, tu sabe," la Rea Blanca xuxa, en cuando Alisia leva se per la taxe, multe obediosa, ma pico asustada.
"We must support you, you know," the White Queen whispered, as Alice got up to do it, very obediently, but a little frightened.
"Multe grasias," el xuxa en responde, "ma me va susede intera bon sin vos."
"Thank you very much," she whispered in reply, "but I can do quite well without."
"Acel tota no ta conveni," la Rea Roja dise multe serta: donce Alisia atenta tolera la situa con bon jentilia.
"That wouldn't be at all the thing," the Red Queen said very decidedly: so Alice tried to submit to it with a good grace.
("E vera, los ia puia tan!" el dise a pos, cuando el raconta a sua sore la avenis de la banceta. "On ta crede ce los vole presa me a platia!")
("And they did push so!" she said afterwards, when she was telling her sister the history of the feast. "You would have thought they wanted to squeeze me flat!")
En fato, el trova ce lo es alga difisil de resta en sua loca en cuando el fa sua parla: la du Reas, de ci un es a cada lado, puia tan el ce los leva el cuasi en la aira. "Me leva per ofre mea grasias—" Alisia comensa: e el leva vera en cuando el parla, tra alga sentimetres; ma el saisi la borda de la table, e susede retira se a su.
In fact it was rather difficult for her to keep in her place while she made her speech: the two Queens pushed her so, one on each side, that they nearly lifted her up into the air. "I rise to return thanks—" Alice began: and she really did rise as she spoke, several inches; but she got hold of the edge of the table, and managed to pull herself down again.
"Atende aora!" la Rea Blanca xilia, saisinte la capeles de Alisia con ambos sua manos. "Alga cosa va aveni!"
"Take care of yourself!" screamed the White Queen, seizing Alice's hair with both her hands. "Something's going to happen!"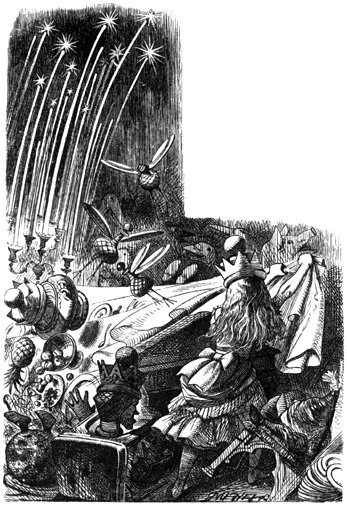 E alora (como Alisia descrive lo a pos) cosas de tota spesies aveni en un momento. Tota la candelas crese asta la sofito, con aspeta alga simil a un fondo de juncos con focos artal a la culmina. E per la botelas, cada de los prende un duple de platos, cual los fisa rapida sur se como alas, e tal, con forces como gamas, los voleta de asi a ala en tota dirijes: "e los aspeta multe simil a avias," Alisia pensa a se, tan bon como posible en la confusa estrema cual comensa.
And then (as Alice afterwards described it) all sorts of things happened in a moment. The candles all grew up to the ceiling, looking something like a bed of rushes with fireworks at the top. As to the bottles, they each took a pair of plates, which they hastily fitted on as wings, and so, with forks for legs, went fluttering about in all directions: "and very like birds they look," Alice thought to herself, as well as she could in the dreadful confusion that was beginning.
A esta momento, el oia un rie roncin a sua lado, e turna per vide cual aveni a la Rea Blanca; ma, en loca de la Rea, la gama de ovea senta ala en la seja. "Me es asi!" un vose cria de la bol de sopa, e Alisia turna denova, a la bon tempo per vide la fas larga e bonumorosa de la Rea ci surie a el per un momento de la borda de la bol, ante desapare en la sopa.
At this moment she heard a hoarse laugh at her side, and turned to see what was the matter with the White Queen; but, instead of the Queen, there was the leg of mutton sitting in the chair. "Here I am!" cried a voice from the soup tureen, and Alice turned again, just in time to see the Queen's broad good-natured face grinning at her for a moment over the edge of the tureen, before she disappeared into the soup.
Alisia no pote perde an un momento. Ja alga de la invitadas reclina se sur la platos, e la culieron de sopa pasea longo la table en dirije a la seja de Alisia, jestinte nonpasiente afin Alisia sesa bloci la via.
There was not a moment to be lost. Already several of the guests were lying down in the dishes, and the soup ladle was walking up the table towards Alice's chair, and beckoning to her impatiently to get out of its way.
"Me no pote plu tolera esta!" Alisia esclama en cuando el salta sur sua pedes e saisi la covretable con ambos manos: e con un bon tira, la platos, boles, invitadas, e candelas cade en junta a un monton sur la solo.
"I can't stand this any longer!" she cried as she jumped up and seized the table-cloth with both hands: one good pull, and plates, dishes, guests, and candles came crashing down together in a heap on the floor.
"E en relata a tu," el continua, ferose turnante contra la Rea Roja, ci el regarda como la causa de tota la turba—ma la Rea es no plu a sua lado—el ia diminui subita a la grandia de un pupa peti, e es aora sur la table, joiosa corente en sirculos de xasa sua propre xal, cual es tirada pos el.
"And as for you," she went on, turning fiercely upon the Red Queen, whom she considered as the cause of all the mischief—but the Queen was no longer at her side—she had suddenly dwindled down to the size of a little doll, and was now on the table, merrily running round and round after her own shawl, which was trailing behind her.
A cualce otra ves, Alisia ta senti surprendeda par esta, ma el es multe tro stimulada per es surprendeda par cualce cosa aora. "En relata a tu," el repete, caturante la creada peti ci es a media de salta supra un botela cual veni de desende sur la table, "me va secute tu a un gateta, tan serta!"
At any other time, Alice would have felt surprised at this, but she was far too much excited to be surprised at anything now. "As for you," she repeated, catching hold of the little creature in the very act of jumping over a bottle which had just lighted upon the table, "I'll shake you into a kitten, that I will!"